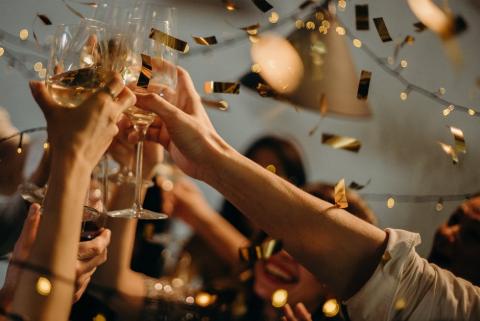 Located in downtown Atlanta, The W Hotel has become synonymous with classic, modern nuptials. This sleek and stylish venue offers an urban oasis in the middle of the bustling city, and has become a favorite with couples around the country.
Are you planning to celebrate your upcoming union at this gorgeous spot? If so, it pays to know a few insider tips beforehand. Today, we're sharing a few steps to take as you prepare for your big day!
Understand the Room Options
The W Hotel Wedding venue offers eight dedicated event rooms. In all, there are 11,553 square feet of meeting space, which means you'll have plenty of spots to spread out. 
Are you in the beginning stages of your planning timeline? If so, it's smart to go ahead and review the Floor Plans and Capacity Charts that the hotel generously offers online. Here, you can get a clearer view of how the venue is set up, including where the individual Studio Rooms are in comparison to the main Great Rooms.
This page also lists the number of square feet in each space. For instance, Great Rooms 1 and 2 each have an overall area of 1,715 square feet, while Studios 5 and 6 have a combined capacity of 2,479 square feet. 
One of the most helpful features on this page is the Room Set-Up Examples section. This short guide provides illustrated examples of how tables and chairs can be arranged at The W Hotel to maximize space and accommodate guests. A few of the different layouts include:
Stand-up reception
Banquet seating
Theater seating
Oval and round-shaped seating
There are also other layouts included, such as conference room seating and classroom seating. However, these are best reserved for corporate events and luncheons, where one presenter is at the head of the room and others are listening. For a wedding, you want a setup that encourages mingling, conversation, and socialization. 
Utilize Hotel-Provided Wedding Specialists
According to one survey, the wedding planning process is "very stressful" for 40% of couples. In fact, 71% said that it was more stressful than most major life events, such as buying a house!
There's no denying that this season can be a little challenging. That's why it makes sense to make use of the hotel wedding planning specialists! These seasoned experts are well-versed in handling every aspect of your special day, and will listen to your requests to ensure the big moment is everything you've dreamed it would be. 
Take the catering team, for example. This group of experts can help ensure your guests feast on the most delicious fare in the city, from sweet treats to savory entrees. You'll work in partnership with them to create the ultimate menu that reflects your tastes and preferences. 
Use Reception Spaces For Rehearsal Dinner and Brunch
While most of the emphasis will rightly be on the day of your wedding, there are other pre-wedding and post-wedding meals and events to consider. One of those is your rehearsal dinner. Typically held the night before your wedding, this event allows the wedding party to spend time together and celebrate one another. 
Instead of asking guests (both local and out-of-town) to travel all over the city for various functions, keep it easy and choose The W Hotel as the central location for everything. Here, you'll find plenty of smaller reception spaces that are perfect for hosting a small-to-midsized group. 
For example, Studios 3 and 4 are all similarly sized, with a combined area that doesn't exceed 1,800 square feet. Instead of spreading out in a larger Great Room, you can keep things more intimate by sticking to this footprint. Other small-scale reception spaces include:
The Wet Bar
The Drinkshop
The Pre-Function Space
Then, when the last dance is over and the decorations are put away, the same rooms are ideal for hosting a post-wedding brunch before you and your spouse jet-set off to your honeymoon!
Plan Musical Entertainment Early
While your wedding to-do list is likely a mile long, we can help you check one task off as early as possible: entertainment! Whether you're hosting a small wedding in a Studio Room or the party of the year a Great Room, there's a musician out there for you.
Larger crowds will love a lively party band, like the Atlanta German Band, who can expand into a six-piece live group complete with a trumpet, clarinet, and tenor sax! If you'd rather treat your guests to a wide range of musical hits, then a DJ might be more up your alley.
This type of performer can keep the crowd entertained and on the dance floor, spinning everything from country to hip-hop, and spanning multiple decades in the process. Someone like DJ Vanessa is a sure hit, with the innate ability to read a room and please a group.
On the other hand, couples planning a more private gathering might prefer a quieter and more personal musical experience. In this case, a solo guitarist or pianist is a great pick. Pianist Jim Gibson is a long-time local favorite, playing all around Atlanta and beyond since the early 1970s. 
Reserve Rooms for Guests
Do you have guests traveling from out of town to attend or participate in your wedding? If so, then it's infinitely easier if they stay at The W Hotel.
This way, they don't have to worry about finding transportation to get around town, there are no confusing directions to follow, and you can make sure they're on time! Plus, they can celebrate into the night and simply retire upstairs when the party is over. 
Thankfully, The W Hotel offers a special wedding rate for your guests. You can even book an entire room block so they're all staying in the same spot! As an added bonus, consider booking your wedding party a surprise trip to the on-site spa!
Say "I Do" at The W Hotel
The W Hotel is a spectacular place to start the rest of your life with your partner. Stunned by its beauty, thousands of couples have chosen it to celebrate their marriage. As a result, the hotel has developed a comprehensive planning process that makes it easy for you to follow in their footsteps. 
As the on-site wedding specialists help you nail down every detail of your day, let us take the entertainment aspect off your shoulders. We can connect you with some of the best acts in the city that are sure to deliver an unforgettable performance. To learn more and get started, contact us today.