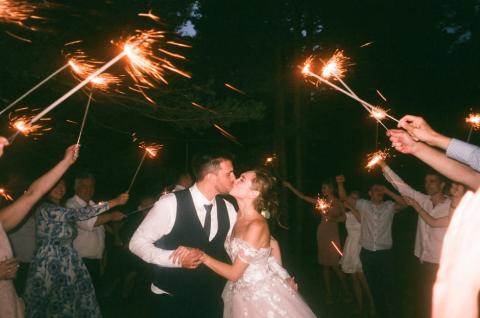 When you're planning a wedding, there are a ton of details you need to deal with. What sort of decorations do you want, what sort of food will you serve, what flowers will you have, and what music will you play? One of the things you'll need to decide is whether you want to have live entertainment at your reception.
There are several things to consider when planning wedding live entertainment this year. Read on to learn more about all the factors that go into these performances and what you need to plan for.
Make Sure There's Space
One of the first things you need to do when planning live entertainment for your wedding is to check that there will be space for them to perform. Even something as small as a string quartet might not seem like it would take up very much space. But you have to have room for the performers and their instruments, as well as speakers, microphones, chairs, and so on.
Talk to your wedding venue and figure out what sort of performance space you'll be working with and how big a group they can accommodate. It's also a good idea to check on things like available outlets, ramps, and other such behind-the-scenes equipment. Your venue should be familiar with the size groups that can comfortably perform in different spaces.
Plan Time for Setup 
When you're planning your wedding, it can be easy to imagine walking into your reception and everything just being perfect! And while you should have this moment on your special day, it's going to take some prep work. In particular, the performers will need some time to set up in the space, preferably before guests arrive.
If your reception includes a dinner, setting up beforehand can be great from a disruption standpoint, but bad from a budget standpoint since you have to pay for the extra time. If you have a small space, your performers might have to set up after dinner when tables are cleared away. Setting up during dinner can actually work well in some situations since people will be absorbed in their food and conversation.
Start the Band at the Right Time
You'll also need to decide during your wedding planning timeline when you want your entertainment to start their act. It's important not to start too early, as many people want to move around and chat during the beginning of a reception. They want to talk about the ceremony and greet old friends and family, not sit and listen to a performer play.
Give your guests some time to stretch their legs and get settled into the reception before you start the entertainment. But also make sure you give them time to get through their act before guests start getting tired. Waiting too late in the reception will leave you with guests walking out halfway through the show.
Give the Performers a Prep Space
In addition to considering the size of the performance space, you also need to give your live entertainment some space off stage at your reception. Performers may need to get ready before they start their set, and it's nice to have someplace to sit down during breaks. They may need time to eat, go to the bathroom, get a drink, and rest during the course of the reception.
Make sure your reception venue has a space that can be used as a green room for your performers. Ideally, there should be comfortable seating, outlets, and privacy from the guests. You also need to plan time for them to take a break and provide them with food and drinks during the evening.
Look Into Noise Ordinances 
When you're planning a party, it can be easy to get tunnel vision about the rest of the world outside of the reception hall. But the last thing you want is for the police to show up at your reception with noise complaints. Depending on where your reception will be, there may be city regulations that govern how much noise you can make after a certain hour.
Look into noise ordinances in your city and in the area surrounding the venue. If these regulations don't fit with your idea of a party, you have a couple of options. You could move your wedding up a few hours or see if ordinances are different on weekends, or you could make sure the performers know to keep the volume down.
Figure Out Equipment 
When you're hiring entertainers, it's important to check on what sort of equipment they need and what equipment they provide. Many performers will need a microphone and speaker at the least, as well as somewhere to plug them in. Bands may need instrument stands and music stands, and magicians may require all sorts of specialty equipment.
Many wedding venues provide sound systems, speakers, and microphones, so talk to your venue about what they offer. Coordinate with your entertainment to make sure they'll be able to cover the rest of what they need. This way your performers don't wind up hauling out equipment that's already available at the venue.
Start Planning Wedding Entertainment
Planning your wedding can be very exciting, but there are a lot of details you have to think about. If you're planning on hiring live entertainment, make sure you have enough space for them both on and off stage. Also check on who will provide what equipment, and make sure you give rhe performers the time they need to set up. 
If you'd like to start planning wedding entertainment, check out the rest of our site at Blue Sky Atlanta. We work with the best entertainment Atlanta has to offer, from bands and DJs to magicians and more. Request a quote today and start planning your perfect day the easy way.