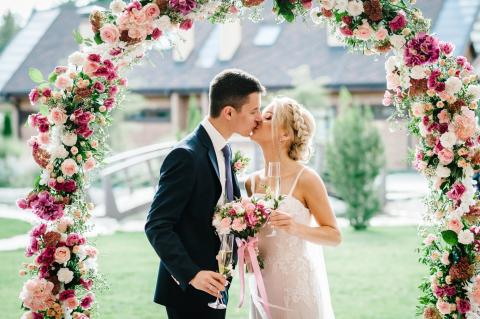 Congratulations!
You're engaged and want to plan a magical wedding day neither you nor your guests will soon forget. If you're looking for classic southern elegance, look no further than Primrose Cottage.
Located in Rosewell, Georgia just minutes from Downtown Atlanta, this charming reception site is one of the most sought-after wedding venues in GA. 
From its rich history to the breathtaking grounds, this three-story cottage provides couples with an intimate and elegant outdoor wedding experience.
Keep reading to learn why Primrose Cottage is the only venue choice when planning the perfect southern wedding in style.
The History of Primrose Cottage
To appreciate the elegance and beauty of Primrose Cottage, you need to know a bit about its rich history. Don't let the quaint name of this spacious three-story home fool you.
Primrose Cottage sits on a stately front lawn in historic Roswell where it's been charming visitors for decades. The home was built in 1839 by Roswell King for his daughter. 
Since then, the cottage has hosted thousands of weddings and events, accommodating up to 300 guests. While this wedding venue in GA is large in size, it still offers a quaint, intimate atmosphere. 
Primrose Cottage is part of a collection of venues owned and operated by Magic Moments. With years of experience, the staff is dedicated to creating an unforgettable event for guests. 
Couples can enjoy the elegant yet private ballroom which is tucked away from onlookers. The property's lush gardens make the perfect backdrop for pictures and private moments. 
A Peek Inside and Outside the Facilities
Once you get a breathtaking first look at the cottage itself, you can start to explore everything it has to offer.
English Gardens
The English Gardens at Primrose Cottage are overflowing with gorgeous seasonal plants during the spring and summer months. This quaint hideaway is the perfect setting for a natural and elegant outdoor wedding.
The gardens are also visible from the cottage's lower and upper porches, ballroom, and garden room. Both the cottage and the gardens of Primrose have grown and developed with the land, creating a gorgeous, natural setting. 
Overlook Ballroom 
The Overlook Ballroom is one of Primrose Cottage's most breathtaking and impressive spaces. This glass-encased space features floor-to-ceiling windows giving guests an unobstructed view of the lush gardens just outside.
When you and your loved ones aren't dancing the night away with fun and energetic entertainment, you can step outside onto the ballroom's beautiful veranda. 
Bridal Suite and Groomsmen Room
Couples have access to the cottage's luxurious Bridal Suite and Groomsmen Room for all their wedding day needs. Each area offers ample space for bridal parties of all sizes.
In the Bridal Suite, you can pamper yourself with hair and make-up services, sip champagne, and shake off those wedding day jitters!
The guys will love the exposed brick and rustic feel of the Groomsmen Room. This space resembles a man cave and is the perfect space for the groom and his friends to chat, reminisce, and toast the future.
Available Services at Primrose Cottage
Whether you choose an indoor or outdoor wedding at Primrose Cottage, the services and level of professionalism will remain the same.
The staff at the cottage simplifies the planning process by providing couples with a list of reliable vendors. You can choose from an extensive list of professionals that have been vetted and proven worthy of working with one of the best wedding venues in GA.
Guests indulge in food provided by A Divine Event, the catering division of Magic Moment. Chefs use fresh, seasonal ingredients to create mouthwatering dishes that cater to your needs and palate.
With access to locally grown produce, you can rest assured that the quality and flavor of your meal will be top-notch.
The staff at Primrose Cottage can help you choose decorations for the venue as well, which are provided by their own exclusive design studio. The studio, which has been in existence since 1987, is comprised of experienced decorators that will make your magical wedding vision a reality. 
Most wedding packages also include a cake, bar, set up, clean up, and event planning assistance.
Other Additions for the Perfect Southern Wedding
Now that the wedding venue is decided, you can focus your attention on the small details that will give your magical wedding a personal touch.
Professional Photography and Videography
After months of planning and preparation, your wedding day will be a blur of smiling faces, happy tears, dancing, and champagne toasts. Let a professional photographer or videography capture every moment so you can relive it time and again.
Traditional photographers will photograph you, the bridal party, the ceremony, and the cake cutting. If you want a more "out of the box" experience, choose an up-and-coming artist with an eye for creativity. 
Videography services give you a birds-eye view of your special day, letting you experience your favorite moments and giving you a glimpse at some you may have missed.
Choose the Perfect Musician
The musician and type of music you choose for your special day will set the tone for the entire evening. 
For those who love high-energy events with plenty of dancing, consider a live band. If you want to embody the elegance that Primrose Cottage is known for, why not hire a pianist or string musician?
Nothing says classic lu quite like the sound of violins and piano keys. 
Get the best of both worlds by hiring one of these musicians for the ceremony and a DJ for the after-party.
Planning Your Magical Day with Professionalism and Elegance
Primrose Cottage is one of the most historic and elegant wedding venues in GA.
With breathtaking grounds, gardens, and ballroom views, this venue accommodates both indoor and outdoor weddings up to 300 guests.
Let the experienced staff at Primrose Cottage help plan an unforgettable and magical wedding day. And let the professionals at Blue Sky Atlanta Music & Entertainment help you find the perfect entertainment to compliment your style and preferences.
With over 20 years of experience, our staff and entertainers are professional, efficient, and diligent. Our goal is to handle all the details so you can focus on what really matters -- planning the biggest day of your life!
Contact us for more information on the other services we offer including comedians, magicians, and more!