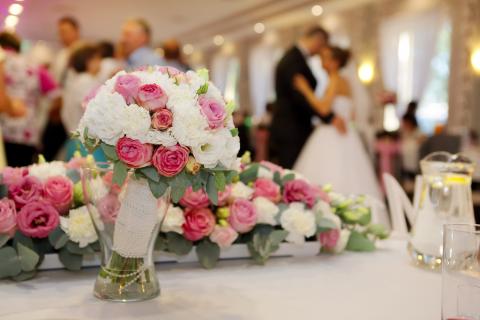 The newly-renovated Crowne Plaza Ravinia offers couples a sleek and modern wedding reception experience. Designed to cater to today's discerning traveler, the venue is equipped with a slew of amenities including tech-savvy touches that are sure to impress.
With guest rooms so technologically advanced that they've received a U.S. patent, you know that the Crowne Plaza Ravinia is going to deliver the ultimate in upscale, smart luxury. 
This can make it a little challenging when it's time to choose the perfect wedding decorations for your big day. With such a stunning backdrop, what can you add? Which pieces will bring your vision to life and help create the atmosphere you crave? 
Today, we're sharing a quick guide to help you find and display the ideal decor that's chic, upscale, and completely you.
Nail Down Your Aesthetic
Before you can decide how you want your wedding will look, you need to think about how you want it to feel. 
If you haven't chosen your preferred wedding style yet, then start there. Together, you and your fiancé will need to decide the type of mood you want to establish during your big day. 
Do you want guests to feel like they stepped back in time to a classier, more formal era where black ties were the norm and updos weren't unheard of? Or, do you prefer a more casual, laidback vibe that encourages everyone to let loose?
There isn't a right or wrong answer, but the aesthetic you land on will help guide your decor decisions. If you're feeling pressured to pinpoint a specific theme, then relax. Ultimately, you just want to think about the general impression that you want your event to evoke. 
This makes it easier to communicate your vision with future vendors at the Crowne Plaza Ravinia, including decorators and designers. For instance, you can let them know that you prefer a rustic, modern farmhouse vibe and they can incorporate certain pieces that help pull the look together. 
Expand Your Color Palette
While they've been getting bolder and brighter, wedding color schemes have traditionally been fairly limited in scope. For instance, your bridal party might don a few statement hues, but that's it beyond the classic black-and-white bridal tones. 
As you plan your wedding decorations, feel free to expand outward from there. A wider-reaching color palette will allow you to incorporate more complementing items, so you don't feel stuck trying to match every single piece.
For example, consider an autumnal wedding that incorporates gold, burgundy, and olive green in the wedding ceremony. Sticking too closely to those three colors could leave you scrambling to find the perfect linens or floral arrangements. Instead of pigeon-holing yourself, broaden the scope.
In this case, those three colors can expand to simply encompass "earth tones". Suddenly, you can select from an array of browns, greens, reds, and golds when it's time to choose your accessories. 
Draw Inspiration From Your Venue
Feeling stuck when picking out your wedding decor? Book a tour of the Crowne Plaza Ravinia, and bring your notebook! As you walk around, take note of the touches that adorn all of the hotel's wedding and event spaces. 
In addition to the 12,000-square-foot Ravinia Ballroom, there are also multiple private function spaces that are ideal for smaller wedding receptions. If you prefer an outdoor event, you can also reserve the gorgeous terrace gardens located on the property. 
In each indoor space, you'll notice luxurious finishes, such as crystal chandeliers, fine furniture, and polished floors. These are contemporary furnishings that can elevate the look of any event. Think about how you might be able to decorate around any type of accent wall or focal point you see, and choose colors and patterns that will complement what's already there.
If you host an outdoor ceremony or reception, then you can easily scale back on the amount of decor you use. In these types of gathering spaces, nature is the perfect accessory! Take advantage of the beautiful lawn space, towering trees, and colorful flowers, which are available for your guests to enjoy at no extra cost. 
Ensure the Essentials
Before you begin investing in nice-to-have wedding decorations, take the time to make sure that you have all of the essentials in place, first. 
This includes such functional items as:
Tables
Chairs
Silverware/flatware
Lighting
Flowers
Centerpieces
If you're planning to host a seated dinner at your reception, then you may also need to create or purchase a seating chart or name cards. This way, your guests will know where to sit when they arrive. 
The staff members at the Crowne Plaza Ravinia can work with you every step of the way to make sure that you have everything you need. In addition to helping you connect with local vendors, they also provide state-of-the-art A/V equipment, as well as catering services. 
This makes it a cinch to set up any type of wedding entertainment that you hire! The hotel partners with PSAV, a global leader in A/V technology and event planning, to make sure your music and vocals always sound beautiful and crystal clear. 
Once you have the right foundation in place, you can expand outward to include other decorative elements, such as:
Aisle markers
Tablecloths
Floral arrangements
Alter decorations
Touches like these aren't always technical or functional in nature. Yet, they can help you communicate your wedding theme. They can also add a hearty dose of personality and charm to your wedding. 
Plan Your Perfect Wedding at Crowne Plaza Ravinia
You're only a few steps away from saying "I do" in one of the most luxuriously modern hotel venues in the city. The Crowne Plaza Ravinia is dripping with elegance, and doesn't require much in the way of wedding decor.
Still, the pieces you do choose should reflect your personal style and the wedding theme you envisioned. As you plan your perfect day, we're here to help it sound as great as it looks. Contact us to learn how we can help you connect with the best local singers, musicians, and performers.