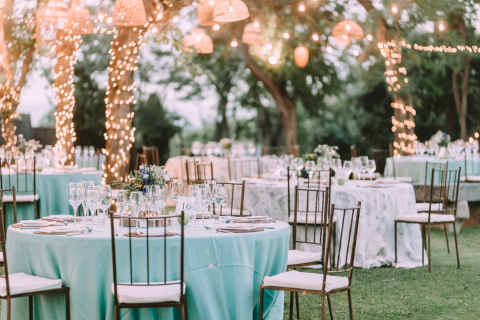 Planning a wedding is an exhilarating experience, and there's something undeniably magical about exchanging vows in the great outdoors, especially in the charming ambiance of the southern states. From the warm climate and stunning landscapes to the rich cultural heritage, the South offers a picturesque setting for an unforgettable outdoor wedding. However, to ensure your special day goes smoothly, careful planning and consideration of the unique aspects of the region are essential. In this article, we will guide you through the process of planning an outdoor wedding in the South, highlighting important factors and providing tips for a truly remarkable celebration.
1) Choose the Perfect Venue:
Selecting an ideal outdoor venue is crucial for setting the tone of your southern wedding. The South offers a diverse range of scenic options, such as historic plantations, elegant gardens, rustic barns, or breathtaking beaches. Consider the weather, season, and overall aesthetic you desire to narrow down your choices. Ensure the venue offers suitable amenities, such as shaded areas, restrooms, and a backup plan in case of inclement weather.
2) Timing is Everything:
Timing is key when planning an outdoor wedding in the South. Take into account the climate and weather patterns specific to your chosen location. Spring and fall are often the most pleasant seasons, with milder temperatures and less humidity. However, if you decide on a summer wedding, plan for the heat by providing shade, fans, and refreshments to keep guests comfortable. In the case of a winter wedding, prepare for potential chilly weather with heaters or blankets.
3) Embrace Southern Hospitality:
The South is known for its warm hospitality and charm, so infuse your wedding with those delightful qualities. Incorporate local traditions, customs, or cuisine to create an authentic southern experience. Welcome guests with sweet tea, signature cocktails, or traditional southern dishes like shrimp and grits or fried chicken. Consider hiring a bluegrass or jazz band to provide live music that reflects the region's cultural heritage.
4) Décor and Styling:
Complement the natural beauty of your outdoor setting with thoughtfully chosen décor. Draw inspiration from the surroundings and accentuate the southern flair through elegant, rustic, or whimsical elements. Think about incorporating fresh flowers, vibrant colors, delicate lace, and vintage accents. Mason jars, burlap, and lanterns can add a touch of rustic charm. Utilize local flora, such as magnolias or cotton, to infuse an authentic southern atmosphere.
5) Be Prepared for Weather:
Weather conditions in the South can be unpredictable, so having a contingency plan is essential. Renting a tent or marquee provides protection against rain or intense sun. Additionally, consider renting portable fans, misters, or even air conditioning units to keep guests comfortable during hot summer months. Ensure there are ample shaded areas and provide sunscreen, bug repellent, or hand-held fans for guests to use.
6) Dress Appropriately:
When selecting your attire, keep the weather in mind. Choose light and breathable fabrics to combat the southern heat and humidity. Opt for open-toe shoes or sandals for comfort on grassy or sandy surfaces. For the bride, consider a dress with a lighter fabric, such as chiffon or lace, that allows for ease of movement. Grooms and groomsmen can embrace a more casual style with lightweight suits or linen attire.
7) Inform and Accommodate Guests:
Inform your guests about the outdoor nature of your wedding and provide any necessary guidance. Include a note on your invitations or wedding website suggesting appropriate attire and footwear, along with any other relevant details. Consider providing amenities like sunscreen stations, insect repellent, or fans. If the venue is located in a remote area, provide transportation options or suggest nearby accommodations for out-of-town guests.
8) Choose Engaging Entertainment:
Entertainment plays a significant role in creating a memorable wedding experience. Consider incorporating entertainment options that reflect the spirit of the South. Live music, such as a jazz band, bluegrass ensemble, or country singer, can add a delightful touch. Traditional southern dances, like the two-step or square dancing, can get guests on their feet and engaged. For a unique twist, consider hiring local performers, such as a Cajun zydeco band or a gospel choir, to showcase the rich cultural heritage of the region. Remember to discuss sound requirements and any necessary permits with your venue to ensure a seamless entertainment experience.
Conclusion:
Planning an outdoor wedding in the South offers a perfect blend of natural beauty, cultural richness, and southern charm. By considering key factors such as venue selection, timing, southern hospitality, décor, weather preparedness, appropriate attire, and engaging entertainment, you can create a truly enchanting experience for you and your guests. Embrace the warmth and hospitality of the South, infuse your celebration with local traditions, and let the stunning landscapes be the backdrop to your dream wedding. With careful planning and attention to detail, your outdoor wedding in the South will be an unforgettable celebration of love and cherished memories that will last a lifetime. Cheers to a blissful journey of planning your perfect southern wedding!