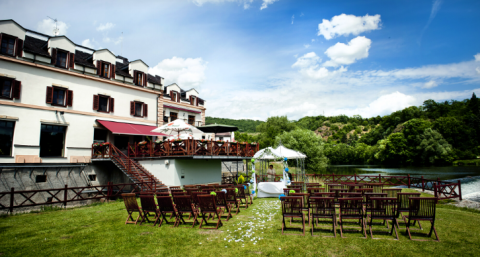 Did you know that in addition to being gifted with one of the highest influxes of millionaires, Atlanta is also one of the wealthiest cities?
That means that no matter what kind of event you're planning, having it at a high-end location in Atlanta will be sure to impress your guests at the event.
Are you interested in having your next event at a top country club in Atlanta?
If so, then keep reading. We're going to give you a rundown of the best spots and country clubs to ensure your event is picture-perfect. When it comes to country clubs in Atlanta, you truly can't go wrong.
Understanding What to Look for in an Atlanta Country Club
There are several factors you will want to consider before choosing a country club. Here are some of the most important factors.
Events
You need to understand what the country club will host in terms of events. Not all are the same, and not all will host every single event you could think of. 
When choosing a location, be sure to keep this in mind and ask these questions.
Staff
When looking for an event space at country clubs, you want to make sure that you vibe well with the staff at the place. You will want friendly and knowledgeable staff so that they can help whenever you host an event there. This will ensure your guests will always be happy!
Amenities
What type of amenities do you want the country club to have? Do you want there to be a fine dining option?
Do you prefer that there is a pool and a patio so that you can host your event outside?
Make a list of the amenities you will want when event hosting so that you can look out for these.
Budget
You also have to take into account the budget that you have for your event. This should be one of the first questions you ask when looking at various event spaces and country clubs.
If it is out of the budget, there is no point in wasting time touring around or visiting the space. Instead, stick to looking at the places that are within your budget so that you can spend more on other parts of the event as well.
Tips for Selecting the Best Country Club for Your Event Needs
When it comes time for you to select the best country club, be sure that you spend time doing research. You want to make sure that it is right for your event.
Be sure to ask the right questions and visit the property. Sometimes, you may find something online but it can look extremely different or even feel different in person. You want it to feel right.
In addition to that, you will want to meet the staff as well to see how they interact with you. This will be a good indication of how they will interact with your guests as well.
You should also consider the location. How easy is it for your guests to get to this area? Is there ample parking for all of the guests who attend the event?
Dazzling Country Clubs in and Around Atlanta for Memorable Events
When it comes to choosing country clubs in Atlanta, you have so many options. And all the options are wonderful - it just comes down to what you love and want in your event space.
This is why going through your options one by one is always a good idea. This can help you to narrow it down further. 
1. The River Club Atlanta
The River Club is unrivaled in its luxury and beauty. 
This club is built around a Greg Normal golf course and is surrounded by woods and natural beauty.
The clubhouse itself has dining facilities and spacious patios where you could host a party overlooking the golf course and the beautiful nature surrounding you.
2. Cherokee Country Club
If you're looking for a premier private club, then look no further than the Cherokee Country Club. 
The club is committed to providing excellence in all areas, which is why there are so many awards and honors that this club has received throughout the years.
3. Ansley Golf Club 
Located in the heart of Atlanta, Ansley Golf Club is the perfect location if you are looking for a club that is in the center of everything. The relaxed atmosphere is great for hosting parties and portraying an overall sense of elegance to guests who visit your party.
Ansley Golf Club prides itself on accommodating all types of events at the club. With a Grand Ballroom, there is more than enough room to accommodate large parties of up to 400 people.
There is more than enough room for all types of entertainment and dancing.
4. Atlanta National Golf Club
Atlanta National Golf Club is proud to offer a truly Southern hospitality experience for all occasions. From exquisite cuisine to exceptional service, our club provides an unparalleled level of refinement and sophistication for you and your guests. Our spacious clubhouse is adorned with elegant rooms, numerous bars, and a stunning veranda that overlooks our spectacular golf course, offering the perfect backdrop for a truly unforgettable celebration. Whether you're hosting a corporate event, a wedding, or a private party, Atlanta National Golf Club is the ultimate venue for those seeking an exceptional experience.
5. Capital City Club
Capital City Club's refined ambiance offers members a versatile setting to host various events such as luncheons, dinners, meetings, or receptions. The club's staff is dedicated to providing exceptional service and dining, ensuring that members' events are unforgettable.
Members and their guests enjoy the convenience of complimentary valet parking. The club's location in the heart of the downtown Atlanta business district provides easy access to MARTA, major interstates, and Hartsfield-Jackson International Airport, making it a convenient and accessible destination. Whether you're hosting a small gathering or a large event, Capital City Club offers a sophisticated and accommodating venue for all occasions.
Choose From These Amazing Country Clubs
Now that you know how to choose country clubs and what to look for in them, you can now narrow down your choices for your next event. Be sure to follow the tips outlined in this guide, and you will have the event space of your dreams in no time. 
There are so many great spots for hosting an event! Wherever you choose, your event will be sure to be special - that's for sure!
And, remember that you will need awesome entertainment as well. You can browse our entertainers and artists at Blue Sky Atlanta Music & Entertainment. We're sure to have something you will love for your event.