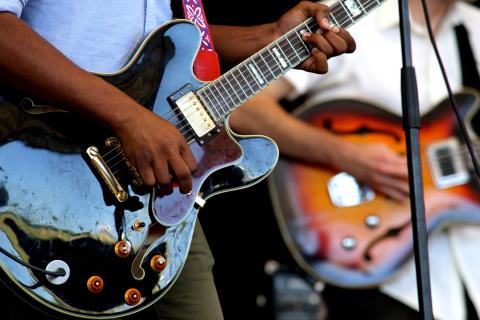 About 270 million people in the U.S. ages 13 or older listen to music as part of their daily routine. It's no surprise then that whether it is your wedding, a child's birthday party, or a corporate get-together, live music can enhance the mood. And for special events like this, nothing beats getting to experience the sound of a beloved band.
Even if your favorite group broke up years ago, when you book a tribute band you'll get a chance to hear them live again. If you're thinking about hiring a live band for an event, read this guide about the steps you'll need to take.
1. Budget and Time Commitment
The very first thing you'll need to do is figure out your budget. More well-known and experienced tribute bands generally cost more than smaller acts and come with an incredible amount of skill and a larger song repertoire. 
If you're working with an agency or talent network, the musicians may be on a flat-price scale per hour, or they may have all-inclusive packages for certain types of events. You should also factor in any additional fees for extras, such as full-day bookings or for travel and transporting their equipment. 
2. Choose the Genre of Music
If you're looking to make this event special, you'll need to consider your audience and what type of music they enjoy. Is this an anniversary and you want to have your spouse's favorite band play? Or maybe an 80's themed company party?
Knowing what kind of genre of artists to search for will help you find all of your tribute band options and get you one step closer to booking a great one. 
2. Go Out To See The Tribute Band Live 
One of the advantages of hiring a band is that you'll likely get a chance to hear or see them perform before hiring them yourself. If they're local to your area you may be able to see them live, which will give you the best idea of if they'd be a good feature for your event. 
If you aren't able to see them in person, any tribute band these days is likely to have a profile on at least one music streaming platform or a Youtube channel where they upload their work. Check out any reviews and testimonials from fellow customers, and if you want a look-alike band, be sure to look at any photos they have available.
3. Consider the Venue
If the venue you've chosen is too small or isn't set up in a way that would allow the band to perform, you might be in a bind. After you've chosen a few top candidates for your event you'll need to consider the venue and what needs the band will have to be able to play. These needs can include the size of the stage, any above-average amount of electrical outlets needed, and when the musicians will set up and break down their equipment. 
4. Customizing the Performance
Since this is a special event, chances are that you'll have at least one or two songs you'd like to request. As tribute bands, they'll likely be more open to this than if they were playing their original music, however, you'll still need to double-check. If learning and playing the requested song(s) requires a significant amount of time and effort, possibly even new supplies, you might be charged a fee. 
5. Look Over the Contract
The advice "always get it in writing" applies to hiring a tribute band as well. If the band you're hiring is part of a talent network or agency, the agency will likely send you a contract to sign rehashing all of the details about the performance and payment. If you're booking directly with the band, take care to go over the specifics and what happens if the band has to cancel or there's an emergency that causes them to miss the event. 
Enjoy the Occasion
Hiring a tribute band to play at your event can make any day special, even more so when the songs are dedicated to someone special. With our 30 years of experience, we here at Blue Sky Atlanta can connect you with incredibly talented performers to spice up your event and make it a once-in-a-lifetime experience. Search our talent pool today to find a performer for your upcoming event.